Aly Jetha
Cinema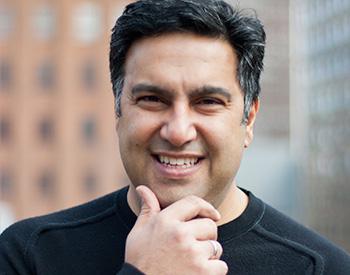 Aly Jetha, a Zambian native who immigrated to Canada with his family in 1974 and grew up in Vancouver, is co-founder and CEO of Oznoz.com and Big Bad Boo Studios - sister companies he started with his wife, Shabnam Rezaei - dedicated to teaching children culture and language through entertainment.
 After graduating with a BA in political science from the University of British Columbia in 1992, Aly spent several years working with the United Nations, representing Canada at Parliamentarians for Global Action, a non-profit, non-partisan international network. He then earned a juris doctor, specializing in corporate and international law, from Berkeley Law School at the University of California. 
After being called to the California bar, Aly worked as a management consultant with Bain & Co., an international strategic consulting firm.
In 1998, he became an entrepreneur; since then he has founded four companies in a variety of industries including semiconductors, telecom, transaction processing and as previously mentioned, children's entertainment.

In 2006 he and Shabnam formed Norooz Productions in New York and LA, now Big Bad Boo Animation Studios with offices in Vancouver. Big Bad Boo's first production was Babak & Friends - A First Norooz, starring Parviz Sayyad as Amoo Norooz, Shohreh Aghdashloo, Catherine Bell and Ali Pourtash. In 2009, Big Bad Boo released Mixed Nutz, the first multicultural series, with kids from Iran, Cuba, India and Korea. Mixed Nutz airs on PBS, Shaw TV Canada, Gem TV Middle East, RTP Portugal, Family Channel Finland and many others. Their latest TV series 1001 Nights was launched last year on Teletoon and CBC with 52 episodes, exploring the famous tales as told by Shahrzad. 1001 Nights is currently airing in 80 countries in 15 languages. It has been nominated for 13 LEO Awards and won 4. In 2002, Aly was named one of Washington State's Top 40 Under 40 - an honour bestowed on him again in 2009 in Vancouver.