The Third Space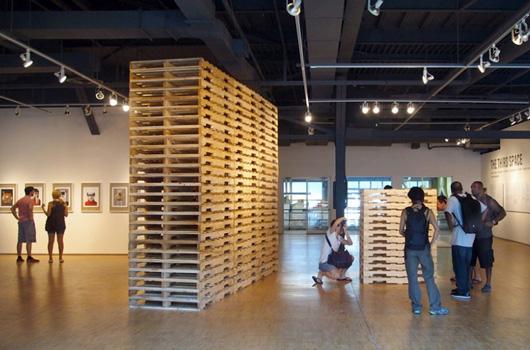 Curator: Sanaz Mazinani , (Canada)
Exhibition Artists: Soheila K. Esfahani, Negar Farajiani, Gita Hashemi, Elnaz Maassoumian, Naz Rahbar, Sona Safaei-Sooreh

The Third Space is a group exhibition featuring a selection of works by six female artists of Iranian descent working in media as varied as drawing, photography, collage, video, and sculpture. Collectively, their works address issues about life in the diaspora. Their projects masterfully explore the anxieties and complexities of living in a globalized world and negotiating the hybrid identities that result from being multi-cultural.

The Third Space is a hybrid of experiences. It juxtaposes homeland with settled land, real with imaginary, and here with there. It is all the experiences of an emigrant; the past and the present dynamically recombined to create a symbolic abstract space in our mind. The phrase "third space" emerged from the writings of thinkers such as Homi K. Bhabha and Edward Said to suggest a rupture with dualism in relation to concepts of place, location, home, memory, identities, territory, and geography of diaspora communities. In this exhibition, The Third Space becomes a symbolic space for hope, where cultural transference is activated, an impermanent space where boundaries can be built and taken down, a psychological space where self-reflection can heal, and a place where individuals' unique experiences can integrate to create a meaningful whole.

Through each of these works, The Third Space aims to create a vocabulary with which we, as fellow citizens with similarly varied backgrounds, can attempt to untangle our own complex individual existence and look toward a better and more hopeful future.

Curator's Tour of "The Third Space" exhibition

Description:
Join Tirgan Visual Arts Curator, Sanaz Mazinani, on a gallery tour and discussion on Contemporary Iranian Art.

Location: York Quay Gallery

When:
Saturday at 3:30 pm
Saturday at 6 pm
Sunday at 3 pm
Fri. Sat. : All Day until 8:00 pm / Sun : All Day until 6:00pm
York Quay Gallery , Harbourfront centre
Event Information
York Quay Gallery , Harbourfront centre
York Quay Gallery , Harbourfront centre
York Quay Gallery , Harbourfront centre