Afarin Mansouri
Music Advisor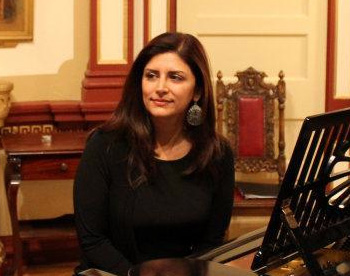 Afarin Mansouri Tehrani is the co-founder of "ICOT" - Iranian-Canadian Composers of Toronto, an associate composer of Canadian Music Centre, and an advisory committee member for North York Arts (an initiative of Toronto Arts Foundation). She is also a PhD candidate at York University, teaching while researching on Persian Opera and other story telling genres. Her compositions cover a variety of styles and genres from concert music and chamber works, to electronic music, multimedia and music for films and animations. Her music is like a bridge, linking her Iranian eastern background to her western academic training.
Afarin is the winner of the prestigious award of 24th International Fajr music Festival Composition Competition in 2009 for her work "The fallen soldier" written for orchestra and choir. She is among the composers who write bilingual vocal pieces in both Persian and English Languages and using Daf (the Persian drum) with western orchestra. Her work "Horse and Fire" for 2 pianos was the winner of piano duo competition in 2010. Her work, "Persian Abstract," was selected for Canadian Women Composers program premiered by San Augustine Duo in 2010. She has collaborated with festivals and ensembles such as Toronto Nuit Blanceh, KW Open Ears Festival, Windago, TorQ Percussion Ensemble, Iranian Heritage at Royal Ontario Museum and Iranian Association of Waterloo.
Afarin has been teaching piano to children for more than 15 years, providing her students high quality instructions together with energetic motivation. She has spread the love of music making to many families. She sincerely believes in the value of early childhood music education and runs her own program, MUSIC NEST.