Sanaz Mazinani
Visual Arts Advisor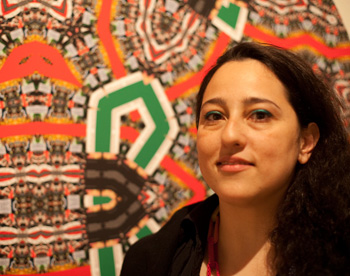 An independent curator, artist, and educator, Mazinani completed her Masters in Fine Art at Stanford University. She received her undergraduate degree in 2003 from the Ontario College of Art & Design University. 
Mazinani's curatorial practice focuses on the idea of perception, and through pedagogical methodologies, explores the nature of modern existence in our globalized world. By critically engaging with personal metaphors on a symbolic level, she encourages viewers to contemplate the contexts in which meaning is negotiated. She approaches curating as a creative act in itself, and through her framing of questions, inspires audiences to identify the connections between perspective and representation. 
Mazinani's practice often intersects conceptual and formal boundaries on site, sight and insight. The recipient of Ontario Arts Council and Toronto Arts Council grants, her work can be found in many public & private collections. Formerly Director of the Stephen Bulger Gallery, and Education Programmer for the CONTACT Photography Festival, Mazinani is currently an instructor at the San Francisco Art Institute.