Aref Mohammadi
Cinema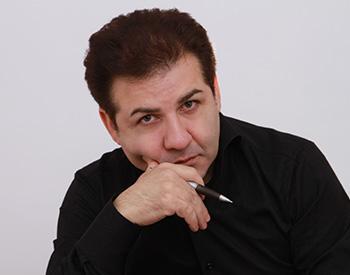 Aref Mohammadi is a well-known journalist, film-critic, filmmaker and TV producer within the Iranian communities outside Iran. He is currently writing, hosting, and producing a weekly TV program titled Jahan-e- cinema (The World of Cinema). In addition, he is the director of New Wave Artistic and Cultural Group, which was founded by him in 2004 to introduce film and cinema to the Iranian community of Toronto through seminars, educational workshops, discussion panels and holding tributes to Iranian veteran and contemporary artists.
Aref's education ranges from Persian Literature to Filmmaking and Social Work studies. He obtained a B.A. in Persian Literature in 1995 from Azad University, Tehran, Iran. After immigrating to Canada he completed a Diploma in Community Work from George Brown College, Toronto, Canada in 2004. He is currently a M.F.A. student in Documentary Media Program of Ryerson University.
A few months after arriving in Canada Aref managed to follow his passion as a journalist by working with a number of Iranian newspapers and TV programs in Toronto. His articles have appeared in print media. His interviews with established cineastes such as Atom Egoyan, Abbas Kiarostami, Arsinee Khanjian, Shohreh Aghdashlou (the first Iranian nominee for an Oscar) Jafar Panahi, Majid Majidi, Bahman Ghobadi, Samira Makhmalbaf and Asghar Farhadi ( the first Iranian Oscar winner) among many others, have been well read and well received by Iranian readers. A selection of these interviews was published in a book called Iranian New Cinema in 2012.
Aref has made two short documentaries called Bus (2005), about the first female bus driver in Iran, and New Horizon (2009) which introduced the first female mechanic in Iran. His latest Feature documentary called A Survivor from Magadan which depicts the true story of Dr.Ata Safavi, an Iranian left activist whose life brought him from Stalin death camps to Canada, was successfully screened in Toronto and received impressive comments from important figures such as: Honorable David Zimmer (Minister of Aboriginal Affairs), Dr. Reza Moridi (Minister of Research and Innovation), Howard Shore (Counsellor of Thornhill).
Aref has been the recipient of a number of appreciation certificates including: The City of Markham (2013), Iranian Art and Culture Foundation in Toronto ( 2011) and AWIC Community Centre(2005) for the volunteer jobs he has done for the Iranian Community since his arrival in Canada.