Shirin Neshat
Cinema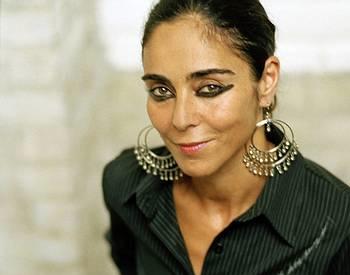 Shirin Neshat is among the best-known Iranian artists in the Western world. She has lived in the United States, in self-imposed exile from her native Iran, for most of her adult life. This experience, of being caught between two cultures, dominates Neshat's creative work: each of her pieces offers a glimpse into the complex social, religious and political realities that shape her identity—and the identities of Muslim women worldwide.
Shirin Neshat was born in Qazvin, Iran, and left the country, at about the time that the Iranian Revolution occurred, to study art in the United States at 17; she graduated from the University of California, Berkeley with an MFA in 1982. When she returned to her home country in 1990, she found it barely recognizable from the Iran before the 1979 Revolution, a shocking experience that incited the meditations on memory, loss, and contemporary life in Iran that are central to her work.
Her Women of Allah series, created in the mid-1990s, introduced the hallmark themes of her pieces through which she examines conditions of male, female, public, private, religious, political, and secular identities in both Iranian and Western cultures. Her videos, installations, and photographs have received great critical acclaim outside of Iran. Her work has been exhibited at the Venice Biennale, the Istanbul and Johannesburg Biennials, the Art Institute of Chicago, the Whitney Museum of American Art in New York, and the Tate Gallery in London, among other institutions. Neshat currently lives and works in New York. When Neshat first came to use film, she was influenced by the work of Iranian director Abbas Kiarostami.
Neshat's recognition became more international in 1999, when she won the International Award of the XLVIII Venice Biennale with Turbulent and Rapture, a project involving almost 250 extras and produced by the Galerie Jérôme de Noirmont which met with critical and public success after its worldwide avant-première at the Art Institute of Chicago in May 1999.
In 2009 she won the Silver Lion for best director at the 66th Venice Film Festival for her directional debut Women Without Men, based on Shahrnush Parsipur's novel of the same name.
Since 2000 Neshat has also participated in film festivals, including the Telluride Film Festival (2000), Chicago International Film Festival (2001), San Francisco International Film Festival (2001), Locarno International Film Festival (2002), Tribeca Film Festival (2003), Sundance Film Festival (2003), and Cannes Film Festival (2008).
In 2013 she will be a member of the jury at the 63rd Berlin International Film Festival.