Mayn Zard Dance Group
Dance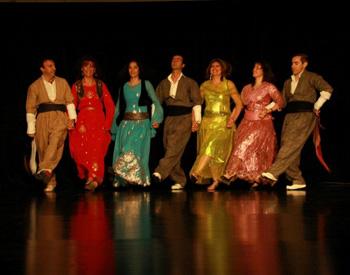 Mayn Zard Dance Group was formed in 2010 by Mostafa Nosraty, following his former group -The Kurdish House Dance Group- founded in Toronto in 2008. His vision behind the group is to help this ancient cultural beauty stay alive as well as help introduce it to the public.
They perform Kurdish dance that includes a variety of dances and styles, more than 20, whose history spans thousand of years. Many of these styles, still being danced all over the region today, are variations of styles that used to be performed in old days. Performers are Ashkan Lahouri, Parisa Alizadeh, Azita Zarei, Adnan Gavili, Farahnaz Bahrami, Omid Zaroorian, Beeta Jafari, Sohila Dashti and Mostafa Nosraty.
Mayn Zard has extensively performed in many recognized events including: 60x60 Dance Toronto, OMNI TV, Tirgan 2011, Royal Ontario Museum (Iranian Heritage Day 2012 & 2013), International Center for Human Rights, MDA 2013 Press Conference, House of Moments and many prestigious Iranian festivals, galas and celebrations.