Araz Nayeb Pashayee
Music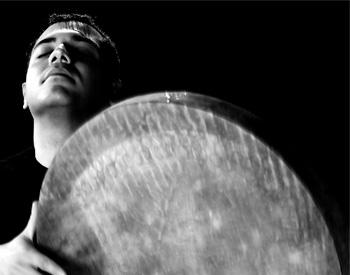 Araz Nayeb Pashayee began his education in Iranian classical music at the age of eight, and ever since has had his main focus on the rhythmic aspects of it. Specializing on Tombak (Persian classical principal drum), Daf (Iranian frame drum) and Udu (African drum), he advanced his rhythmic knowledge and skills under the instruction of masters in Iran over years.
In 2001, upon immigration to Canada, Araz began to collaborate with musicians of various genres and gradually established himself as a Toronto based professional percussionist. His stylistic approach to Tombak and Daf lies in his ability of adapting rhythms of other musical cultures (i.e. Azarbaijani, African and South Indian) to be played with the aforementioned drums, in combination with the traditional percussive aspects of Iranian music. Araz studied visual arts at Seneca College and is currently pursuing his studies at York University in Music with a major in world percussion.
Araz has shared the stage with a variety of renowned musicians and artists: Hossein Behroozinia, Sashar Zarif, Saeed Farajpoori, Hamid Motebassem, Hassan Yousefzamani, Irene Markoff, Soleyman Vaseghi, Naser Masoudi, Hassan Anami, Maneli Jamal, Akbar Golpa, Amir Koushkani, Francois Houle and Davoud Azad. He has performed and has held workshops in popular events such as Harbourfront World Route Festivals 2001-2009, Orientale 2006 in Germany, Tirgan 2008 and 2011, Dusk Dances 2008, Big Art for Little Minds 2010 and Festival of Faiths 2012 in Kentucky, U. S. A.
In 2010, Araz established the first Iranian percussion instruction center in Toronto. There, he and his assistants have taught playing drums to musical enthusiasts of various ages and levels and have organized and run workshops for other percussionists from Canada, U.S.A and Europe. The center has received several awards from organizations such as Canadian Cancer Society, Iranian Canadian Youth Organization and RBC Multicultural Festival in recognition of the outstanding performance of its student.