Erwin Khachikian and Karmandan
Music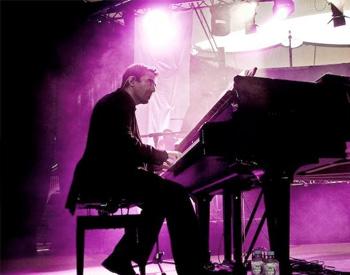 Erwin Khachikian was born in Tehran, Iran and moved to the USA when he was 13 years old. In Farsi, Karmandan translates to blue-collar office workers. The songs are written and produced by Erwin Khachikian, an Armenian born in Iran and raised in America. Performed in Farsi, English, and Armenian, Karmandan's song subject-matter reflects modern life issues and concerns - from the social pressures for a media-accepted look to trying to understand others' differences to respect one another for a better place for all to live.
The band has performed and appeared on nationally acclaimed networks such as BBC numerous times, and they have performed sold out shows and festivals both in and outside of the USA. Since the official release of their debut album, their unique stage look and videos have grabbed the attention of many.
In this theatrical 4-piece band, the members wear different costumes while on stage. The costumes used in the past, such as a $100 bill outfit, a bearded old jeweler, a plastic surgeon, a war sergeant, a school nerd, and a guy dressed as a girl, all bring some clever and tasteful comical aspects to Karmandan's live show.
Karmandan continues to look for opportunities to express their artistic work in other countries and hopes for a day when they can perform in Iran.