Hamed Nikpay
Music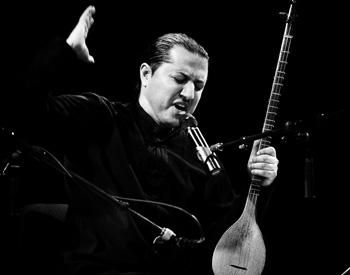 A fusion vocalist, multi-instrumentalist, and songwriter, Hamed Nikpay has been a pioneering & experimental artist for over a decade. His music transcends all boundaries and genres, and is an artful transformation of classical Persian melodies to soulful Flamenco, mystical fusion of transcendental Sufi sounds with smooth jazz and masterly transition of folkloric Persian ballads to Latin beats, all laced with eloquent lyrics by revered Persian poets, ancient & contemporary, incisively chosen by him. He writes his own songs, and often collaborates with musicians of different genres for arrangement and harmonization. He produces profusely and his ingenuity as a visionary artist is hailed by audiences and critics alike.
Hamed was one of the first and few artists who showed his solidarity with the Iranian men and women who put their lives on the harm's way for freedom and democracy during the Green Revolution. The song entitled "The Owner of this Land—Maaleke een Khaak" written and performed by him for this occasion, has received much popularity for its originality and its soulful rendition.
Hamed's passionate live performances, and electrifying voice, have mesmerized audiences throughout the world and earned him the reputation of one of "Iran's best young vocalists".
He has produced 4 albums: "Solo Passage", "All Is Calm", "Spellbound" and just released the ground breaking & quintessential fusion album "Reaching You".