Neemeha
Music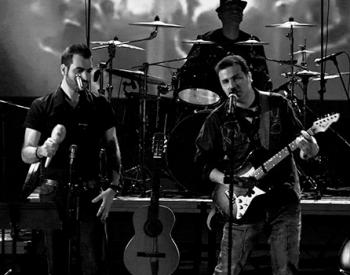 Neemeha, an independent Toronto-based Iranian-Canadian music band formed in 2008, consists of Behnam Jahanbeiglou (band leader, composer, vocalist and multi instrumentalist), Behrouz Jahanbeiglou( vocalist ), and Arshia Bassiri ( drummer, percussionist). Guest members are Ben Knight (Bass), Mahsa Ghasemi (Cello), Ekaterina Pyatkova (back vocal in just song).
Since the inception of the band, Neemeha has been involved in many successful concerts and events, and has performed in a number of events alongside prominent Persian musicians, including Siavash Ghomeyshi.
Their first album "Kook" was released in 2010 and was distributed by the Los Angeles-based company MZM. Since Kook they have released a number of other singles and videos, including the hit song "Asheghooneh" and "Yade To", their most recent release which includes a music video.
The artistic work of Neemeha doesn't follow the established rules and structures of existing popular Persian music in Los Angeles or Tehran; it has its own unique features, inspired by Toronto and the tastes associated with this city's unique musical scene. They are known as the first pop/rock Persian music band in Toronto which has independently produced and written its own lyrics, as well as composed and recorded its own songs.