Sarv Ensemble
Music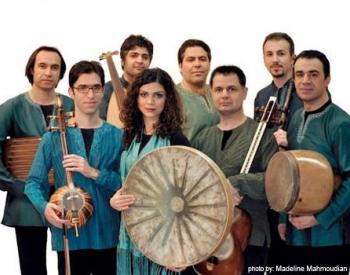 Sarv Ensemble is a Persian music ensemble. Drawing inspiration from diverse classical and folk traditions across Iran, it performs and shares its music through concerts, as well as workshops, and community events. Sarv Ensemble presents in traditional contexts as well as in collaboration with artists from different traditions and disciplines. In its first year of activity, it has performed with several international artists such as vocalists Ostad Naser Masoudi and Roohangiz from Guilan province of Iran, storyteller Ariel Balevi, Prof. Irene Markoff, and Maryem Hassan Tollar, and has participated in numerous festivals and toured across Canada.
Kousha Nakhaei is a kamanche player, violinist, and music educator, who studied music at York University under Jaime Weisenblum, Casey Sokol and Trichy Sankaran. He has explored the violin in many styles, and has pursued the study of kamanceh. With an interest in interdisciplinary creation, Kousha has collaborated with many artists including Yoyo Ma's Silk Road Ensemble, Loreena McKennitt, Peter Chin, Keaja d'Dance, David Calderisi, and many others. Kousha is a founding member of Sarv Ensemble which has toured across Canada and performed extensively. Also active as a teacher, he's a co-founder of Sarv Music Academy.
Shahin Fayaz (tar, setar, robab) Born in Tehran, Shahin studied tar and setar music at the Tehran Conservatory of Music and Tehran Music University. He has performed with many ensembles such as Aftab, and Bahar, and taught music in Tehran for several years. He has been actively involved in performing in Montreal and Toronto after his immigration to Canada in 2005. Currently he teaches tar and setar in Toronto, and is a founding member of Sarv Ensemble and Sarv Music Academy.
Amin Reyhani studied santour (Perisan dulcimer) at Mashhad University and graduated from Tehran University of Fine Arts in 2001, where he studied with numerous masters including Dariush Talai and Majid Kiani. Amin founded Ghazal Ensemble and Tooba Ensmeble in Iran, performing in Tehran and touring across Iran. He was also an active music teacher. Amin immigrated to Canada in 2010 and has been working with Sarv Ensemble and teaching.
Ebrahim Rahnema has studied the voice and radif (repertory) of Persian music under teachers such as Mr. Azami Kia, Ali Montazeri, and Javid Ebrahimpour. His style of singing has its roots in the Esfahan school, and his interest is influenced by such masters as Seyed Reza Tabatabayi, Ali Asghar Shahzeydi and the great Taaj-e Esfahani. Ebrhahim has appeared as a soloist in Esfahan, Iran and has performed with Barbad Ensemble and Sarv Ensemble, Mahmoud Schrieker and many others in Canada. Ebrahim is also active as a poet and writer, and has published his first book of poems.
Arash Javadpour (tar, bass tar, baglama), is a native of Kurdistan. He started studying music at Kamkars' Conservatory of Music and pursued tar and setar. Currently he is studying music at York University where he also works on baglama, a traditional instrument from Kurdistan and Turkey. Arash has performed and toured with Sarv Enmseble, and Vesal Ensmeble.
Mona Manoochehri (Guest Artist) is a soprano singer, music educator, and choir director. She began singing in 2004 with Hasmik Karapetian and received a Bachelor of Flute performance at Art University, Tehran, Iran, where she was awarded the best graduating student in 2007. She was also a member of the Austria Cultural Forum's choir and opera ensemble, conducted by Vijay Upadhyay and Christian Schulz. She further pursued her studies by attending Master of Voice program at Longy School of Music, Cambridge, USA, in 2011, and continued her pursuit with Mei Lee after moving to Toronto in 2012. She is a second prize winner in the mature singers category in the Ontario NATS competition. Mona has also been teaching music to children for over 10 years and currently directs Sarv Music Academy Choir.