Solmaz Peymaei
Music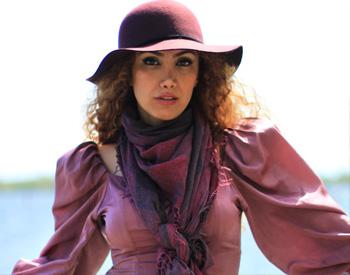 Solmaz Peymaei was born in 1980 in Tehran and started singing from an early age and took cello lessons with Davoud Jafari. With a degree in architecture She also studied music in Tehran Music Conservatory, traditional Iranian singing with Maestro Saleh Azimi and solfege with Mostafa Poortorab. During past years she collaborated with well-known Iranian singers such as late Mohammad Noori as well as Iranian orchestras as a cello player.
Solmaz founded a band with Babak Taghikhani in 2006 as a couple and duo. They have performed in festivals such as Italy Popoli festival 2011 and Teatro Colosseo 2012 and had numerous concerts in Iran.
After immigrating to Canada in October 2012 they had concerts in different events such as ICC year-end gathering, Tirgan Yalda and Iranian Heritage Day in Royal Ontario Museum.
Her repertoire ranges from pop and folk to fusion Persian and English music in which a unique timbre with a superb lyricism is highlighted in her voice and music interpretation.