Karine Gonzalez
Dance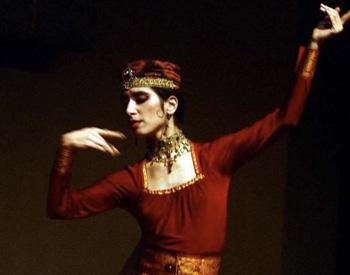 Karine Gonzalez is a multifaceted artist. After studying piano, music theory and ballet dance for over ten years, she naturally found her passion in Flamenco; her ideal language to express herself artistically, especially as it originates from her roots in Spain. She studied Spanish literature and wrote her master's thesis on Flamenco and called it "My Flamenco Movements".
Since 1998, she has choreographed and performed with a large variety of productions and world-famous artists, including a Sufi solo performance in Tony Gatlif's film "Vengo" beside Tomatito, Antonio Canales and Sheikh Ahmad Al Tuni, while having worked for two years with the world famous school of flamenco of Madrid under the leadership of Antonio Reyes (professor and dancer of flamenco, Nacional Ballet of España) where she joined his company for the choreographic competition of Madrid.
She met actor, dancer and choreographer Shahrokh Moshkin Ghalam in Paris, with whom she studied Sufi and diverse Persian dance styles. She has performed in many of his creations inspired by mystic Persian mythology and poetry, including "Haft Peykar", "Omar Khayam", "Dance Variation", as well as his latest work "Love Stories of the Shahnâmeh".