Gita Hashemi
Visual Arts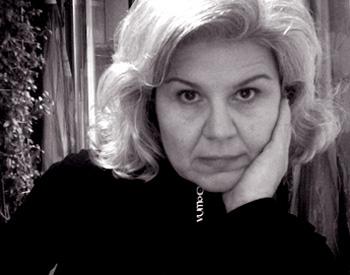 Gita Hashemi is an award-winning transmedia artist, writer and curator whose practice is concerned with historical and contemporary issues. She uses different techniques and technologies in order to explore social relations and the interconnections of writing as embodied language with cultural imaginary and politics. Her recent works include Headquarters; Pathology of an Ouster, a multi-platform project including an installation, performance and webcast focused on the 1953 US-UK coup d'etat in Iran; Utopias In-Progress, a performance, video and installation about the effects of capitalism on the arts; and Ephemeral Monument, a performance, video and installation based on the poetics and politics that animated the opposition to the Pahlavi monarchy in the years leading to the 1979 Iranian Revolution. The work exhibited at Tirgan 2013 is part of the larger project Book of Illuminations that uses writing as a ritual and draws on self-narrative and idiomatic Farsi to explore border-crossing and expose political and cultural trappings. This project was supported by a grant from Ontario Arts Council.
She has exhibited at Interaccess Electronic Media Arts Centre/Toronto, Yerba Buena Centre for the Arts/San Francisco, SIGGRAPH/Los Angeles, Casoria Museum of Contemporary Art/Napels, Museo de Arte Contemporaneo de Rosario/Argentina, Plug In/Basel, Al Kahf Art Gallery/Bethlehem, and Museo de Arte Contemporaneo de Yucatan/Merida among others. Most recently she had solo exhibits at A Space Gallery/Toronto and Red House Centre/Sofia, and participated in group shows at Luggage Store Gallery/San Francisco, and Electrochoc Festival/Lyon. Her curatorial projects includeTrans/Planting: Contemporary Art by Women from/in Iran (2001), Negotiations: From a Piece of Land to a Land of Peace (2003), Will (2003), Locating Afghanistan (2004-5), RealPlay (2005), In Contact in Iraq (2005) and Acts of Being: Kazemi vs Libman (2005) and Auto-Liberacion (2007). Her work has been reviewed in Mix Magazine, Art Papers, Abitaire, Fuse, Radical History Review, Art Week, Toronto Star, Canadian Dimensions, Eastern Art Report, DigiMag, TeknoKultura, and Lola among others. Her writing has been published in several catalogues including 2005 and 2007 InterActiva (Merida, Mexico) and Decima Bienal de Habana's Evento Teorico, as well as in Fuse, Refuge, Resources for Feminist Research and Public. She is a recipient of Baddek International New Media Award for the CD-R Of Shifting Shadows, Toronto Community Foundation Award for the sound installation The War Primer, and American Ad Federation's award for the book Locating Afghanistan.
Hashemi was born in Shiraz and is currently based in Toronto. She taught time-based art, new media and cultural studies at York and Ryerson Universities and University of Toronto, 1998- 2009. She was a member of Fuse Magazine's editorial committee 2003-2008 where she remains a contributing editor. Since she entered the School of Fine Arts in Tehran University shortly after the 1979 Revolution, her motto has been: the personal is poetic, the poetic is political, the political is personal.
She has an upcoming solo show at MAI (Montréal, arts interculturels), Nov 14-Dec 14, 2013.