Negar Farajiani
Visual Arts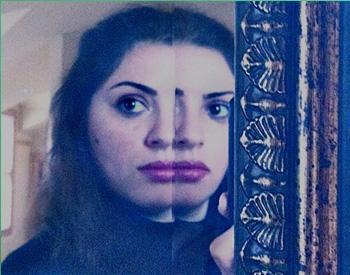 Born in Iran in the historic city of Yazd, Negar Farajiani is an interdisciplinary artist and curator. She lives and works between Yazd and Tehran, working with in a variety of media, including installation, painting, photography, and drawing. After graduating from the Art Institute of Tehran in 2000, she returned to Yazd and started painting abstract forms to uncover the truths about traditional and religious life. In 2003, she moved back to Tehran to continue painting and began to show her projects in galleries. She has had several solo exhibitions in Tehran and has been part of group exhibitions in, Dubai, London, Brazil, China, Japan, and USA.
In 2009, Farajiani developed the "Puzzle" series, the concept of which comes from the confusion and mishmash of meanings in our daily lives as a result of globalization. The artist's latest solo exhibition, 'UNDO", challenges the physical abuse, brutality, and bullying of women in Iran. Since 2010, Farajiani has been curating two large collaborative projects titled, "Destination Known " and "Tehran Monoxide Project". Both of these long-term projects involve the public as they aim to collaboratively investigate social and environmental issues.
In 2012, Farajiani held her first solo exhibition in the USA, titled Mix & UnMatch. In 2013, her projects were on display at the Emirates Financial Towers, in Dubai, where she was announced as one of the finalists for the Magic of Persia Contemporary Art Prize.
For The Third Space exhibition at the York Quay Gallery, Farajiani will be showing a set of collages, where she uses puzzle shapes to obscure and highlight detail. "The concept of the puzzle came from the confusion and jumble of meanings," she says. "I believe that life is similar to a puzzle, making up our destiny, culture, political, and social life." In this set of staged self-portraits we see the artist as she moves through multiple states, changing appearances and sometimes disappearing into the objects that give us clues into her life.